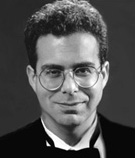 Paul Basler, 1993-94 Fulbright Senior Lecturer in Music at Kenyatta University (Nairobi, Kenya), 1995-96 University of Florida Teacher of the Year and the 2001-03 College of Fine Arts University of Florida Research Foundation Professor is currently Professor of Music at the University of Florida where he teaches horn and composition. He taught at Western Carolina University for four years and prior to coming to WCU, was the North Carolina Visiting Artist in Residence at Caldwell Community College. He received his B.M. degreemagna cum laude from the Florida State University, M.M., M.A. and D.M.A. degrees from Stony Brook University and has received teaching awards and citations from the University of Florida College of Fine Arts, Stony Brook University, Western Carolina University, Kenyatta University and the Kenya Office of the President/Permanent Music Commission. Dr. Basler is widely recognized as one of the most important instructors of horn in the United States, and his published textbooks on horn pedagogy and performance etudes are used by hundreds of schools of music and conservatories across the globe. He has also served as a board member and consultant to numerous national and international arts organizations and is a frequent guest lecturer at educational conferences worldwide.

Basler was resident hornist at the annual Composers Conference in Boston from 1991-2004 and has performed as guest artist at numerous International Horn Society Workshops, the Llangollen International Musical Eisteddfod in Wales, the Winchester International Music Festival in England, the Festival Internacional de Música de Cantonigrós in Spain and the St. Petersburg International Chamber Music Festival in Russia. Basler has been a member of the Brevard, Charleston, Valdosta, Greenville, Asheville, Tallahassee and Gainesville Symphonies, and continues to maintain a busy performing schedule throughout the United States and abroad, having premiered over 200 works written for him in the past seven years. He also has received 2 American Cultural Affairs Specialist Grants from the U.S. Department of State and serves as Visiting Professor with the Royal Welsh College of Music and Drama and the Dominican Republic's Ministry of Culture and National Conservatory of Music.

One of the most performed composers of his generation, his music have been received with enthusiastic acclaim throughout the world, the New York Times describing his music as "virtuosic and highly athletic." The recipient of the North Carolina Arts Council Composer's Fellowship and several National Endowment for the Arts Composer/Teacher grants, Basler's compositions have been performed throughout the world and recent compositions have received performances at Carnegie Hall, the Disney Concert Hall in Los Angeles, Tanglewood, the Spoleto Festival, Symphony Hall in Chicago, Kennedy Center, the National Theatres of the Dominican Republic and Kenya, Lincoln Center, the Sydney Opera House, the Aspen Music Festival, the Grand Teton Music Festival and in Shanghai by the Shanghai Philharmonic. One of the youngest persons to have ever been awarded a Senior Fulbright Lectureship, he served as the Composer in Residence and Conductor at the Sewanee Summer Music Center and Composer in Residence at the North Carolina Center for the Advancement of Teaching. His music is published by Carl Fischer, Colla Voce Music, Walton Music, Hinshaw Music, Southern Music, R.M. Williams Publishing, and the IHS Press.

Basler's horn teachers have included William Purvis, William Capps and Barry Benjamin and his composition teachers have been John Boda, John Downey, Bülent Arel, John Lessard and Billy Jim Layton.